Digital Transformation
Map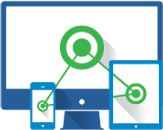 Understand how selling digital goods changes your online conversion strategy. Map the new KPI's and lessons learned from across 1000's of Software, SaaS, and Online Services companies.
Expertise To
Learn From

Learn from the Superstars of Conversion extending CRO to the full Commerce Lifecycle - global strategies, split testing tips & tricks, tools to use when growing your Digital Business.
Real World
Revenue Uplift

Take away 5 methods to reduce revenue leakage and maximize revenue lift, and ultimately maximize customer value. Understand the components you need for to support a modern Digital Commerce solution.