Intro
Choosing a subscription platform with the right capabilities can upgrade your approach from
simply billing users on a recurring basis to building seamless, memorable experiences for them.
REPER
Our Digital Commerce Benchmark Report for the first half of 2020 revealed that around 79% of online sales of digital goods go out to recurring contracts, registering significant growth from 2012 when recurring online sales only made up half of all transactions. It's no wonder subscription billing systems have become more sought-after and why companies throughout the world are keen to find the best recurring billing systems out there.
When it comes to subscription billing platforms, there are certain features you need to look for that will help your business supercharge the way you bill your customers regularly. Here's a rundown of must-have features in an online recurring billing system.

Subscription Plan Catalog

One of the main capabilities you'll seek out in a subscription billing service is the flexibility of its pricing configurations. Pricing in subscriptions can take many forms - at the very least you should have access to configurations like the following:
Flat fee
Charging a flat, fixed sum per billing interval.

Tiered pricing
Customers can choose between several plan tiers, each providing additional incremental value on an increasing scale

Per seat pricing
(also known as per user pricing) Especially popular in SaaS, this configuration implies charging per the number of users that use the subscription

Usage-based/ metered
(also known as pay-as-you-go) Customers pay only for their actual usage
Per feature pricing
Customers choose their plan in terms of the features they include and pay accordingly

Freemium
Offering your core product as a free offering and charging recurrently for additional capabilities
Free trials
A delimited period (the trial) when the product is free, followed by recurring billing
Dynamic pricing
The customer is billed depending on their choice of one or several product options
Pricing also comes into play at renewal time, so options to set renewal discounts are another subscription catalog feature to look out for.
Our subscription billing system lets merchants manage their subscription catalogs from an intuitive dashboard. Whether you're looking for bulk imports or complex plan configurations, you'll find all options in the 2Checkout all-in-one platform.
EBOOK
Interested to do more with pricing? Checkout out our Pricing for Success in SaaS: An Essential Guide and learn what makes an effective pricing strategy
Billing Model Automation

An online recurring billing system helps you automate the billing process, allowing you to charge customers at any interval that makes sense and offer the right length of contract for each use case. Choose a provider whose platform caters to renewal frequency diversity, so you can set billing parameters depending on your users' preferences:
In terms of billing automation, you also need access to retry logic capabilities - used to reattempt payments that failed initially, and trial conversion capabilities - allowing you to manage free and paid trials and engage with consumers to convert them.
2Checkout's recurring billing system allows you to set the billing frequency at any interval that makes sense, and it also provides for pre- or post-paid billing

Communication & Notification

Subscriptions are an ongoing affair and, like any long-lasting relationship, they require continuous exchanges.
Throughout a subscriber's lifecycle you'll need easy-to-use tools to notify them in case of updates, plan changes, promotional offers available, service status, and others. The payment processing itself requires an automated notification including transaction status and payment details. Throughout a subscriber's lifecycle you'll need easy-to-use tools to notify them in case of updates, plan changes, promotional offers available, service status, and others. The payment processing itself requires an automated notification including transaction status and payment details.
The best recurring billing systems streamline communication campaigns and allow you to stay close to your users, thus encouraging their loyalty. This is done through churn prevention tools, which help you create the right touchpoints depending on where the subscriber is in their lifecycle with the product, and through dunning tools, which help you handle communication related to expiring payment methods or soft declines.
Easily set up notification campaigns from your 2Checkout dashboard and nurture your user base to take full advantage of your product. Whether you want to let them know of an ongoing promotion, encourage them to sign up for auto-renewal, or just ask for feedback on their experience with the product, you'll be able to easily set up these flows from our control panel.
Invoicing

Sending automated invoices is easy enough, even for a free recurring billing system, but you'll need a professional supplier to handle the complexity of generating subscription invoices. In B2B, for example, multiple users from a company often use the same subscription. The invoice there should clearly capture details of each employee's usage, without turning the bill into a lengthy novel. Or consider your users who use subscriptions but also make one-time purchases with your company - their bills should be clear on what amount was paid for what service.
An online recurring billing system of choice needs to translate the complexities that happen in the background during account management into an easy-to-understand document that is automatically sent out to user mailboxes.
The 2Checkout platform generates comprehensible, clear invoices that ensure your customers always have up-to-date billing information for their contracts with you.

Rating Engine
A recurring billing system that includes a rating engine will allow you to set usage events that will trigger actions or notifications for the client's account. This lets you support multiple billing models and pricing plans, allows you to set usage threshold, especially for metered-billing contracts; it also helps you automatically calculate prorations when a user changes their contract in the middle of the month.
Our rating engine helps you reduce administration resources and does away with financial errors that could bug your reporting.
SOLUTION BRIEF
See details of 2Checkout's comprehensive subscription capabilities and how it can help you enhance the buying experience in this complementary resource.

Reporting & Analytics

Part of the beauty of subscriptions is the plethora of data it comes with - if used accordingly, this information helps business owners and product managers to continuously optimize their subscription offerings. Therefore, it is vital that any subscription-based billing system you're considering include advanced reporting features.
Ideally, your platform's reporting capabilities should allow you to calculate the metrics that make sense for your business profitability, and highlight trends and insights that can feed your business decisions.
Reporting limitations are one of the pain points merchants often encounter, so it would serve to explore a subscription platform that also caters to custom reporting. Your solution should enable you to get insights at a granular level and to customize your reports in terms of order date, active vs. passive subscriptions, and any other parameters that feed your business decisions.
With 2Checkout, you get access to rich subscription reporting and analytics, in a single dashboard that allows you to perform cohort or regional analysis and to forecast revenue more effectively.
Conclusion
REPER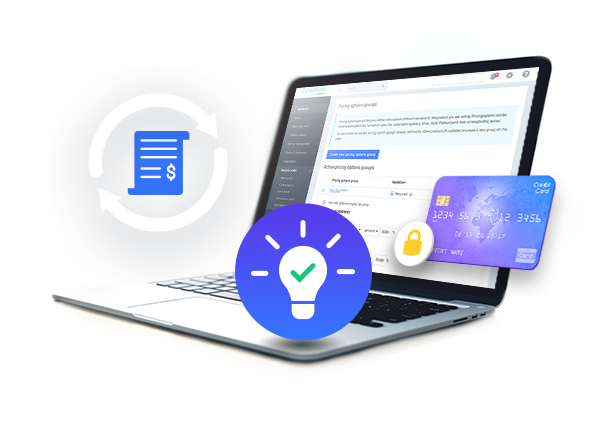 REPER
The capabilities listed above allow you to scale your subscription business. How many of these and what other extras your company may need will depend on your business' specific case. As a general rule, even if the need doesn't seem great now, some of these will definitely be mandatory once your company reaches a certain size.
To avoid the friction that comes with migrating subscription plans to different providers, look from the start at the recurring billing solutions which include these features. Evaluate providers in terms of current needs but also on how future-proof their solutions are, and opt for the service that will help you match your subscription business to the expectations of your users.
2Checkout recurring billing tools have got you covered, with rich capabilities that address all your users' needs, allowing you to optimize time and resources spent on subscription management. Sign up for free today and see these features in action yourself.